Interesting Question of the Day – 19 November 2018
This is Felix Hernandez.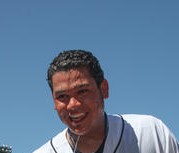 In this 2012 photo, he had just become the most recent person to pull off what was deemed the most difficult single game accomplishment in sport.
What did he do?
The first new player to comment on the website with the correct answer wins a free drink at their next iQ Trivia show.