Team Name Bonus Point – Week of 20 December 2015
Christmas has arrived, and iQ Trivia will be marking the occasion.
For the team name bonus point this week, we are going to Rudolf the Red Nosed Reindeer.  "You know Dasher and Dancer and Prancer and Vixen.  Comet and Cupid and Donner and Blitzen."
But if your team name refers to one of the rejected reindeer, you will get a bonus point.
"Trio the Three Legged Reindeer."
"Drunky the Alcoholic Reindeer."
"Farty the Flatulent Reindeer."
"Rudolf the Emotionally Abused Reindeer who developed a deep seated personality disorder from years of mistreatment over something he couldn't control."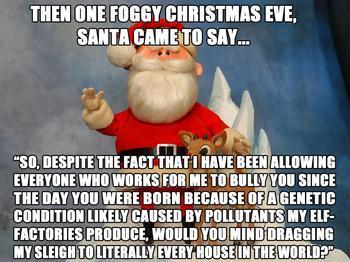 Any alternate reindeer will get you a bonus point.